2020 Annual Bull Sale –
Choice Angus bull sale hits $9500 top, three times
By Hannah Powe, Aug 2020, Land (link to original article)
CHOICE Angus' 4th annual Yearling Bull Sale was a roaring success yesterday, with a $9500 top reached three times and a full clearance of 47 bulls for a $7681 average.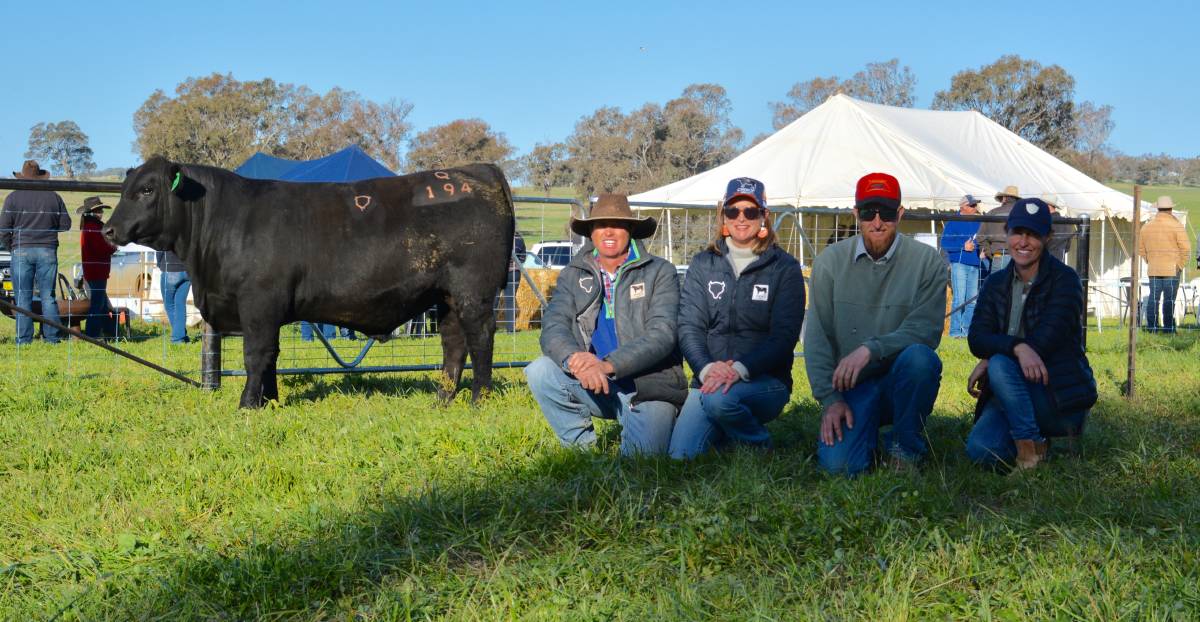 Among the crowd of people in attendance were first time buyers Louise Turner and Matthew Fletcher of Turner Family Trust, Cowra, who purchased three bulls, including Choice Q194 one of the $9500 equal top-priced bulls.
Sired by S Chisum 255 and out of a Te Mania Emperor E343 daughter, he stood out phenotypically and was selected as a heifer bull to use within the Turner family's commercial self-replacing Angus operation, consisting of around 130 breeders.
At 13 months he weighed 620 kilograms with rib and rump fats of 14 millimetres and 9mm, and eye muscle area (EMA) of 94 sq cm and intramuscular fat (IMF) of 5.9 per cent.
Operating a mixed farming operation, the Turners also run around 1800 crossbred ewes.
Steers are targeted to the feeder market, with the aim of getting them to the 400kg mark before selling direct to feedlots. Heifers are retained as replacements.
Turner Family Trust took home three bulls for an $8333 average.
Choice Q232, a son of Thomas Up River 1614, also sold for $9500 to long-term clients of Choice, Wombianna Pty Ltd, Trangie.
The 14-month-old weighed 630kg with rib and rump fat measurements of 12mm and 9mm, an EMA of 89 sq cm and IMF of 6.2pc.
With growth, fats and gestation length figures in the top 25pc of the breed, and a calving ease estimated breeding value (EBV) of +9.9 ranking him top 5pc, he was described as a bull suitable for heifers.
Wombianna Pty Ltd were the largest volume buyers, taking home four bulls for an $8750 average.
Kickerbell Pty Ltd, bought the other $9500 equal sale-topper, Choice Q241 a Te Mania Emperor E343 son, as part of their draft of two they paid an average of $9000 for.
Weighing 620kg at 14 months, he measured 10mm and 8mm on the rib and rump, 102 sq cm EMA and 5.8pc IMF.
Yearling bulls were a favourable choice for many buyers, with most purchasing at least two bulls to add to their sire batteries.